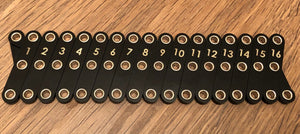 Durable Black Plastic Acupuncture Point ACI Locator
Sale price Price $185.00 Regular price
Highest quality ACI locator available on the market! You won't regret buying this tool. It's worth every penny for a lifetime of trouble-free use.
Made from industrial grade plastic and featuring metal joints. Opens evenly and smoothly for accurate point location every time.  

Each ACI locator is made individually by hand, by me. In many cases we can ship within 24 hours, but sometimes it will take a few more days (especially in the summer when we are out enjoying nature).
Shipping within the US takes 2-3 days for Priority Mail, and 4-7 days for first class. For international orders, please allow extra time for Customs processing. 
Your ACI locator will arrive tuned and ready to use, and with good care will last a lifetime. If it comes out of tune, please email us about sending it home for a tune-up. 
Thank you!